Cabinet Remodeling Phoenix: The Latest Trends and Techniques
Cabinet remodeling is one of the most effective ways to transform your kitchen into a beautiful and functional space. Whether you want to increase storage space, improve functionality, or enhance the overall aesthetic, there are plenty of new trends and techniques that can help you achieve your goals. In this article, we'll explore the latest cabinet remodeling trends in Phoenix and provide expert tips and techniques for achieving your dream kitchen.
Latest Cabinet Remodeling Trends in Phoenix
If you're planning to remodel your kitchen in Phoenix, it's important to know the latest cabinet remodeling trends to ensure your project is up-to-date and stylish. Here are some of the hottest trends in cabinet remodeling Phoenix homeowners are using.
Mixed materials
Mixing materials such as wood, glass, and metal create visually stunning kitchen cabinetry.
Dark / Bold colors
Dark colors can add personality and character to your kitchen, making it a fun and inviting space to cook and entertain.
Two-tone cabinets
Using two different cabinet colors or finishes can add depth and visual interest to your kitchen.
Mixed metal hardware
Mixing metals such as brass, copper, and black finishes can add a modern and trendy look to your kitchen.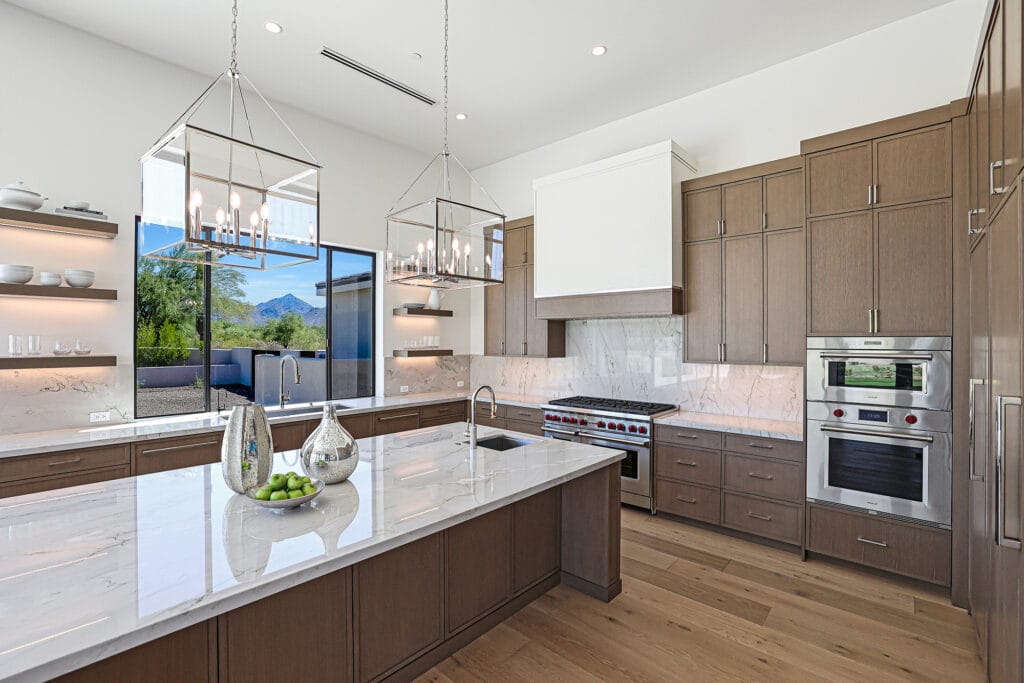 Natural Wood Finishes
A timeless trend that continues to be popular in Phoenix. The warmth and texture of natural wood can add a cozy and inviting feel to any kitchen. Whether you choose light or dark wood tones, the natural variations in the grain and color of the wood can create a unique and beautiful look in your cabinets.
Modern / Minimalist design
A modern or minimalist design is an excellent choice for those who appreciate simplicity and clean lines. With a focus on functionality and a lack of unnecessary embellishments, this design style can give your kitchen a fresh and contemporary feel.
Cabinet Remodeling: Expert Tips and Techniques for your Phoenix home
Cabinet remodeling is a great way to update your kitchen and give it a fresh new look. Whether you're looking to completely replace your cabinets or just give them a facelift, it's important to have the right tips and techniques to ensure a successful project. Here are some expert tips and techniques for cabinet remodeling:
Benefits of Cabinet Remodeling in Phoenix
Cabinet remodeling is an excellent way to improve the look and functionality of your kitchen or bathroom. In Phoenix and Arizona, where the climate can be harsh, high-quality cabinetry is especially important. The key benefits of cabinet remodeling are that it can increase the value of your home and enhance your lifestyle. By updating your cabinets with new materials, finishes, and hardware, you can make your kitchen or bathroom more attractive to potential buyers.
Cabinet remodeling in Phoenix offers numerous benefits, including:
Increased home value – Remodeled kitchens are one of the top selling points for home buyers, and can significantly increase your home's value.
Improved functionality – Well-designed cabinets can improve the functionality of your kitchen, making it easier and more enjoyable to cook and entertain.
Enhanced aesthetic – Beautiful cabinets can transform the look and feel of your kitchen, creating a space that is both stylish and functional.
Another benefit of cabinet remodeling is that it can help you create a more functional space. Custom cabinets can be designed to fit your specific needs and lifestyle, allowing you to maximize your storage space and make your kitchen or bathroom more organized. Luxury Builts LLC is a local custom cabinetry contractor that specializes in creating beautiful, high-quality cabinets that are tailored to the unique needs of each client.
In addition to functionality, cabinet remodeling can also enhance the aesthetic appeal of your home. Luxury Builts LLC offers a wide range of custom cabinetry options, including different finishes, styles, and hardware, so you can create a look that matches your personal style and complements the overall design of your home. Their skilled craftsmen use only the highest quality materials and techniques to ensure that your new cabinets will be beautiful and long-lasting.
Another advantage of working with Luxury Builts LLC is their personalized service. As a local company, they understand the unique needs and preferences of Phoenix and Arizona homeowners. They work closely with each client to understand their vision for their space and to create cabinets that meet their exact specifications. They also provide excellent customer service throughout the remodeling process, ensuring that every project is completed on time and to the client's satisfaction.
Cabinet remodeling is a cost-effective way to update your home without a major renovation. By focusing on the cabinets, you can give your new kitchen, bathroom, or laundry room cabinets in Scottsdale or Phoenix a fresh new look. Luxury Builts LLC offers competitive pricing and can work with you to create a custom cabinet solution that fits your budget.
Choosing the Right Cabinet Remodeling Contractor in Phoenix
When it comes to cabinet remodeling Phoenix has a lot of options; choosing the right contractor is essential to ensuring a successful project. While big box retailers such as Home Depot and Lowes may offer pre-fabricated cabinets at a lower price point, there are several reasons why working with a local custom cabinet maker in Phoenix like Luxury Builts LLC may be the better choice.
Firstly, a local custom cabinet maker can offer more personalized service and attention to detail. They can work with you to design cabinets that meet your specific needs and style preferences rather than trying to fit pre-fabricated cabinets into your existing space.
Additionally, a local custom cabinet maker can offer the best choices for cabinet remodeling Phoenix has to offer. Such as a variety of materials, finishes, and hardware options, allowing you to create a truly unique and personalized space. You'll have more control over the quality of the materials used and can ensure that your cabinets are built to last.
Finally, working with a local custom cabinet maker supports the local economy and helps keep jobs and money within the community. You'll have the peace of mind of knowing that you're supporting a local business and receiving personalized service. By choosing the right cabinet remodeling contractor in Phoenix, you can create a beautiful and functional space that meets all your needs.
PROJECT
Details
Tell Us About Your Project, and We Will Get in Touch with You Shortly